Whether the Insured or the Insurer, Our Customer Is Our First Concern.
Dealing with business or personal property loss requires knowledge, respect, and sensitivity. Our experience is critical to satisfying the insured and to achieving an exceptional claim resolution - and has thrust CNY FIRE into a leadership role in our industry. Despite our growth, we have maintained our focus on customer satisfaction through:
Constant communication throughout the restoration process
Respect for and attention to the needs of each client
Responsiveness and availability
Fairness in pricing and scheduling
Continuous upgrades in service offerings and enhancements
We are committed to serving the needs of insured and insurers alike - and welcome the opportunity. Call us today at (315) 453-1010.
In our customers' words
Whether the loss is commercial or residential in nature, we focus on serving the unique needs of both the insured and the insurance industry. Our customers` words speak for themselves:

"When our office was severely damaged by flooding, I called on CNY Fire Emergency Services. I was impressed with the high-quality of both their work, and their customer service. Working with CNY Fire Emergency Services made for a seamless, efficient restoration process." -Dave Bellso, Designworks Advertising
"When emergency strikes your business - be it fire or water damage - who do you turn to? Your first thought should always be CNY Fire Emergency Services. They specialize in providing full-service disaster response. From initial clean-up, to final restoration." -Scott & Linda Eckler Owners, Installations Unlimited
COMMERCIAL SERVICES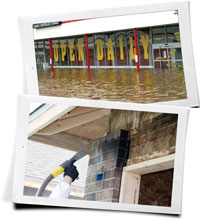 RESIDENTIAL SERVICES