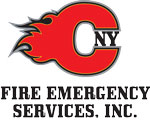 Your Total Disaster Recovery Solution.
We know that when fire, flood, weather, or other calamity strikes a business or home, you need to get it back to original condition fast and without hassle. That`s the mission of CNY FIRE EMERGENCY SERVICES, INC. - your locally owned and operated total recovery solution. Our well-trained professionals perform all three phases of the recovery process: emergency response, salvage and cleanup, and repair and restoration.
Our Mission: Complete Customer Satisfaction
The company took shape in 1987 when its founders spotted a need in the community for customer-oriented fire restoration and insurance-related repair services. Our focus on meeting each customer`s needs in every phase quickly, properly, and responsively has made us the fastest-growing fire restoration company in Central New York.
Our mission is straightforward: To continue setting the standard by which all other insurance repair specialists are judged. We back our efforts with the most current equipment and facilities available and a full service guarantee.
The result: Efficient, high-quality, insurance-related services when and where they`re needed, all at a fair price - provided with care and respect that help the client through a very stressful time.
Bringing Disaster Response Full Circle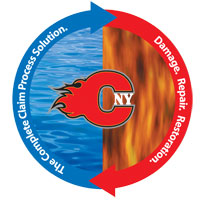 CNY Fire Emergency Services, Inc. offers a comprehensive and seamless restoration process unlike any other insurance repair specialist business in CNY; truly bringing disaster recovery full circle.
COMMERCIAL SERVICES
We understand that even a temporary business shutdown can wreak havoc with customer relationships and cash flow. Count on us to treat the return of your business to a functional state with the urgency the task demands.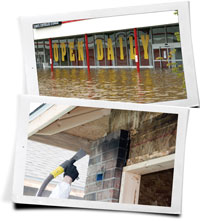 RESIDENTIAL SERVICES
When a home has been damaged or destroyed, we work closely with the homeowner and insurance company to protect the property from further loss and to return the property to its original state as soon as possible. And because a home is typically a family`s emotional and physical center, we approach this very sensitive situation with care and respect.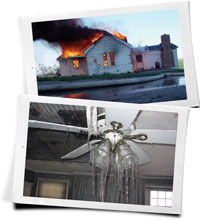 Complete restoration services using one contractor from start to finish
24/7 emergency service
Accurate computer-generated cost estimates
Personalized attention
Satisfaction guarantee
Fully insured and bonded services
Available throughout Central New York
Residential, commercial and industrial expertise